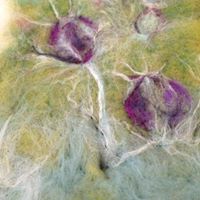 Helen and her family moved to the island of Anglesey in 2016, shortly after she gave up a happy and successful teaching career to spend more time with her two adopted daughters.
In addition to being a mother, Helen spends her days gathering inspiration from the island, and creating from this in a range of media; she's as fickle as she is driven, working predominantly in wool, but also in oils, inks, watercolours, charcoal, pencil, glass and clay.
She works from her home studio, and keenly awaits the garden studio her husband is building to house her more messy creative pursuits.